| | |
| --- | --- |
| | This Character is in our spotlight on the front page for the month! Vote for next months featured character on this page! |
Bluestar is a blue-gray she cat with silver hair tinged around her muzzle, a scar on her shoulder, and blue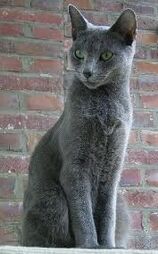 eyes.
Current: ThunderClan
Status: Deceased Cause of Death: blunt force trauma/drowning
Residence: StarClan
Rank: Leader
Age: Approx. 78 moons (6.5 years) at time of death
Names
Kit-Bluekit
Apprentice-Bluepaw
Warrior-Bluefur
Queen-Bluefur
Deputy-Bluefur
Leader-Bluestar
Family
Mate-Oakheart
Son-Stonefur
Daughters-Mistystar, Mosskit
Mother-Moonflower
Father-Stormtail
Sister-Snowfur
Uncle-Goosefeather
Grandson-Reedwhisker
Grandneices-Sorreltail, Ferncloud
Grandnephews-Sootfur, Rainwhisker, Ashfur (thunderclan)
Nephew-Whitestorm
Great grandneices-Cinderheart, Poppyfrost, Honeyfern, Icecloud, Hollykit, Larchkit
Great grandnephews-Molepaw, Spiderleg, Shrewpaw, Birchfall, Foxleap
Great Great grandneices-Cherrykit, Rosepetal, Dovewing, Ivypool
Great Great grandnephews- Molekit, Toadstep
Ad blocker interference detected!
Wikia is a free-to-use site that makes money from advertising. We have a modified experience for viewers using ad blockers

Wikia is not accessible if you've made further modifications. Remove the custom ad blocker rule(s) and the page will load as expected.