Bluestar's Prophecy is the second Super Edition book.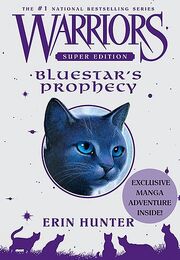 Destinied for Greatness...
Four Clans of wild cats have shared the forest for generations, thriving in their territories. But tensions are running high, and ThunderClan must assert its strength or risk falling prey to its power-hungry neighbors.
Into this time of uncertainty, a kit is born. A prophecy foretells that Bluekit will be as strong as fire, destined to blaze through the ranks of her Clan. But with this prophecy comes the foreshadowing of her destruction by the one enemy she cannot outrun.
As Bluekit gains power and eventually earns her leader name, Bluestar, she fights to protect her Clan. But secrets from the past threaten to surface -- secrets that may destroy ThunderClan... and herself.
The cat on both covers is Bluestar, on the dust jacket the cats at the bottom have no relation to any character and are used on all super editions. Under that dust jacket is Bluestar standing on a rock (most likely Highrock) in ThunderClan territory.
Trivia
Bluestar's Prophecy was released on July 28, 2009.
It was written by autor Kate Cary.
The cat in the circle on the cover is Bluestar.
See Also
Cover Gallery
Ad blocker interference detected!
Wikia is a free-to-use site that makes money from advertising. We have a modified experience for viewers using ad blockers

Wikia is not accessible if you've made further modifications. Remove the custom ad blocker rule(s) and the page will load as expected.