"I looked up to you," he meowed in a clear, level voice. "I wanted to be like you. But Redtail was my mentor. I owe him more than any cat. And you killed him." Grief and fury made his limbs shake, but he kept going. "You killed him and betrayed the Clan. I'd rather die than follow you." He turned and stalked away.
— Dustpelt to Tigerclaw in Forest of Secrets, page 228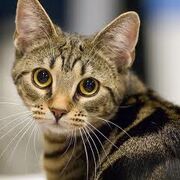 Dustpelt is a dark brown tabby tom with amber eyes
Ad blocker interference detected!
Wikia is a free-to-use site that makes money from advertising. We have a modified experience for viewers using ad blockers

Wikia is not accessible if you've made further modifications. Remove the custom ad blocker rule(s) and the page will load as expected.